Edgar L. Leonhart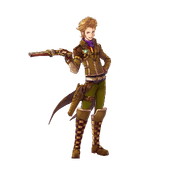 Edgar L. Leonhart is a character in The Alchemist Code.
"I want to protect all ladies of the world!"
- Edgar's headline quote for his character description.

Edgar is a drifter that is mostly seen around Slothstein. He travels around Slothstein with Fiona Elester and Alkemono in search of the philosopher's stone, because of a promise made to Edward Elester (Fiona's Father) and Ethan. - to rebuild Slothstein, and solve the mystery surrounding the philosopher's stone.

Driven by a need to keep all ladies happy, Edgar does whatever he can to keep them from shedding a tear. He is very susceptible to his own emotions, usually crying himself.