Original Raid
Raids are a feature which allow players to combat strong enemies over time. The Original Raid format was used for all the earlier raids in game, but newer raids may use the Alchemia Port Raid format instead.
You can get both personal rewards for killing raid bosses and also help your guild rank higher to acquire better rewards. Friends can assist you in raid kills as well. During an active raid you can't leave your Alchemia Port.
You can regenerate 1 raid point (attempt counter) per hour
Your raid point meter caps at 5 attempts
You can buy 5 raid points for 100 gems
Quitting the quest will still consume the raid point
Each lap contains two or more areas
Once you complete a lap, the next lap is the same except the stats (especially health) of the bosses increase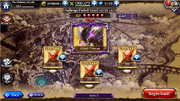 Each area of bosses is two or more random raid bosses and one area boss
You fight one boss at a time. If you fail to kill the boss, the damage dealt will carry over to future attempts
Each boss kill is worth the same number of points
Once you have completed all raid bosses you fight the area boss
After completing an area, you move on to the next area. Once you have completed all areas, you start a new lap
Raid bosses must be defeated within 24 hours of initiating combat or they will be reset
Area bosses must be defeated within 48 hours of initiating combat or they will be reset
Raid quest rewards can only be collected within a 24 hour period after the raid and will disappear if not collected by then.
Challenge Reward: Rewards collected on the results screen following a battle (if you quit the quest, you don't receive the reward)
Subjugation Reward: Defeating the raid boss provides these rewards. If you assist on a boss you will also receive their reward (if you assist just before the boss is defeated you will not qualify for this reward)
Damage Contribution Reward: You will receive a reward based on the amount of damage you do on the boss
Area Clear Reward: Defeat all bosses in an area to receive the reward. Users who assist will not receive this reward.
Alchemia Port Ranking Rewards
[
edit
|
edit source
]
Every member of your Alchemia Port will get rewards based on the kill points of the guild after the raid period is complete.
Alchemia Port Leveling Items
[
edit
|
edit source
]
You can receive items for leveling your alchemia port from raiding:
Plant Fire: 10pt
Plant Flame: 40 pt
Plant Blaze: 200pt
You can aid allies in their attempts to kill raid bosses. If someone makes an attempt on a boss, they can call for help once. Alchemia Port members and friends will show up at the top of a person's potential assist list and you can assist one person at a time. It is possible to exit an assist to help someone else but then you will get no credit for the boss kill and can't rejoin on that same boss. A maximum of 20 players can assist on a boss.
The first assist on someone's else's boss is free, but additional assists on the same boss will cost you raid points. Assisting players outside your Alchemia Port will not help your guild ranking, but it will allow you to get stickers for those boss kills and complete your set. You also get a small amount of Zeni and other minor rewards for assisting other players.
You must be at least player level 86 to assist in raids. There are limits on what player level boss you can assist based on your player level:
| Player Level Range | Aid Level Range |
| --- | --- |
| 1-85 | N/A |
| 86-120 | 1-150 |
| 121-150 | 1-180 |
| 151+ | All |