The Advent of Phantoms

This event is tuned to be highly difficult and a significant AP cost, but can provide 15 shards for the featured unit if completed with all quest missions successfully and also drops evolve materials. Typically each unit event lasts only a single day but they will rerun at a later date- the shards can only be obtained once. The quests are the same for a set of units but provide different quest mission requirements for a specific unit shards. There are several different maps for the stage depending on which unit is featured.
Note: As of July 29, 2020, this event will no longer be running.
Note: These maps are generated by the Ouroboros2 bot on the global Discord. For more detailed information you can use "o.quest questname" to generate your own using the bot and click on the reactions for specific enemy details. There is also a known issue in that sometimes the maps are mirrored or flipped, but it should give you a general idea of the layout.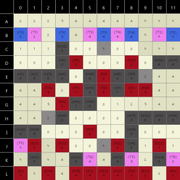 Each quest has the same mission format based on the featured unit and unit element:
Max 99 items used: Unit Soul Shard x 10
Clear without using auto battle: Unit Soul Shard x 1
Clear with only unit element type units: Unit Soul Shard x 2
Clear without continues: Unit Soul Shard x 2
Released March 1, 2019
Vettel stage: March 1, 2019, March 16, 2019, April 9, 2019, November 19, 2019, November 25, 2019, June 18, 2020 - June 24, 2020
Elizabeth stage: March 2, 2019, March 18, 2019, April 6, 2019, November 20, 2019, November 26, 2019, April 7, 2020, May 13, 2020, June 18, 2020 - June 24, 2020
Gerald stage: March 3, 2019, May 4, 2019, November 10, 2019, November 24, 2019, June 18, 2020 - June 24, 2020
Chloe stage: March 4, 2019, March 11, 2019, April 5, 2019, September 21, 2019, March 4, 2020, July 23 - July 29 2020
Natalie stage: March 5, 2019, May 5, 2019, November 22, 2019, April 22, 2020, May 11, 2020, June 18, 2020 - June 24, 2020
Victor stage: March 6, 2019, March 13, 2019, February 11, 2020, July 16, 2020 - July 22, 2020
Decel stage: March 7, 2019, May 20, 2020, June 11, 2020 - June 17, 2020
Dilga stage: March 8, 2019, March 19, 2019, December 17, 2019, May 25, 2020, July 9, 2020 - July 15, 2020
Spica stage: March 9, 2019, March 17, 2019, April 16, 2019, October 30, 2019, March 5, 2020, July 23 - July 29 2020
Vanekis stage: March 10, 2019, December 9, 2019, June 11, 2020 - June 17, 2020
Mia stage: March 12, 2019, October 31, 2019, April 8, 2020, July 9, 2020 - July 15, 2020
Zahar stage: March 14, 2019, April 13, 2019, September 22, 2019, March 2, 2020, July 16, 2020 - July 22, 2020
Lamia stage: March 15, 2019, June 14, 2019, June 26, 2019, November 30, 2019, July 9, 2020 - July 15, 2020
Magnus stage: March 20, 2019, April 12, 2019, May 14, 2019, October 11, 2019, March 18, 2020, July 16, 2020 - July 22, 2020
Tsukuyomi stage: March 21, 2019, May 22, 2019, October 27, 2019
Dark Tyrfing stage: March 21, 2019, May 29, 2019, August 26, 2019, September 4, 2019, October 23, 2019, July 2, 2020 - July 29, 2020
Parashu stage: March 22, 2019, May 27, 2019, September 4, 2019, July 2, 2020 - July 29, 2020
Laevateinn stage: March 23, 2019, May 24, 2019, September 4, 2019, July 2, 2020 - July 29, 2020
Forcas stage: March 23, 2019, May 30, 2019, September 4, 2019, July 2, 2020 - July 29, 2020
Cita stage: March 24, 2019, May 28, 2019, September 4, 2019, July 2, 2020 - July 29, 2020
Yuri stage: March 25, 2019, May 18, 2019, October 28, 2019
Bashosen stage: March 26, 2019, June 3, 2019, September 4, 2019, July 2, 2020 - July 29, 2020
Shekinah stage: March 27, 2019, June 2, 2019, September 4, 2019, July 2, 2020 - July 29, 2020
Dark Laevateinn stage: March 28, 2019, June 5, 2019, August 28, 2019, September 4, 2019, October 22, 2019, July 2, 2020 - July 29, 2020
Longinus stage: March 29, 2019, September 4, 2019, July 2, 2020 - July 29, 2020
Artemis stage: March 30, 2019, May 21, 2019, May 26, 2019, September 4, 2019, July 2, 2020 - July 29, 2020
Masamune stage: March 30, 2019, May 26, 2019, July 2, 2020 - July 29, 2020
Sakura stage: March 31, 2019, May 20, 2019, October 26, 2019
Dark Princess Yomi stage: April 1, 2019, June 1, 2019
Eros stage: April 2, 2019, May 25, 2019, July 2, 2020 - July 29, 2020
Freikugel stage: April 3, 2019, June 4, 2019, September 4, 2019, July 2, 2020 - July 29, 2020
Dragoon Chloe Stage: April 4, 2019, April 18, 2019, April 23, 2019, April 24, 2019
Rosa stage: April 7, 2019, May 12, 2019, November 27, 2019, June 25, 2020 - July 1, 2020
Harbinger stage: April 8, 2019, April 18, 2019, April 19, 2019, April 24, 2019
Sovereign stage: April 10, 2019, April 19, 2019, April 20, 2019, April 24, 2019
Shaman stage: April 11, 2019, April 20, 2019, April 21, 2019, April 24, 2019
Freed stage: April 14, 2019, January 20, 2020, July 16, 2020 - July 22, 2020
Protector stage: April 15, 2019, April 21, 2019, April 22, 2019, April 24, 2019
Dancer Shenmei stage: April 17, 2019, April 22, 2019, April 23, 2019, April 24, 2019
Cadanova stage: April 25, 2019, July 20, 2019, February 7, 2020, July 23 - July 29, 2020
Monzein stage: April 26, 2019, July 22, 2019, November 14, 2019, February 9, 2020, June 18, 2020 - June 24, 2020
Seida stage: April 27, 2019, July 19, 2019, December 24, 2019, February 18, 2020, June 4, 2020 - June 10, 2020
Izayoi stage: April 28, 2019, October 29, 2019, February 24, 2020, July 16, 2020 - July 22, 2020
Setsuna stage: April 29, 2019, June 10, 2019, September 13, 2019, October 5, 2019, March 9, 2020, April 30, 2020, July 23 - July 29 2020
Balt stage: April 30, 2019, June 7, 2019, November 11, 2019, January 24, 2020, July 9, 2020 - July 15, 2020
Bertha stage: May 1, 2019, July 16, 2020 - July 22, 2020
Ankh stage: May 2, 2019, July 29, 2019, September 15, 2019, February 20, 2020, May 1, 2020, July 16, 2020 - July 22, 2020
Lucian stage: May 3, 2019, July 30, 2019, November 23, 2019, July 9, 2020 - July 15, 2020
Ramses stage: May 6, 2019, June 8, 2019, July 28, 2019, November 6, 2019, January 25, 2020, July 9, 2020 - July 15, 2020
Arkil stage: May 7, 2019, February 25, 2020, May 6, 2020, June 18, 2020 - June 24, 2020
Carla stage: May 8, 2019, July 31, 2019, September 14, 2019, December 15, 2019, July 16, 2020 - July 22, 2020
Aswald stage: May 9, 2019, June 16, 2019, December 2, 2019, February 16, 2020, May 4, 2020, July 16, 2020 - July 22, 2020
Strie stage: May 10, 2019, December 25, 2019, May 19, 2020, July 16, 2020 - July 22, 2020
Ryle stage: May 11, 2019, June 18, 2019, December 29, 2019, May 2, 2020, June 25, 2020 - July 1, 2020
Rahu stage: May 13, 2019, December 4, 2019, February 12, 2020, July 23 - July 29 2020
Nefertiti stage: May 15, 2019, July 26, 2019, December 16, 2019, May 3, 2020, July 23 - July 29 2020
Dark Artemis stage: May 16, 2019, May 31, 2019, August 27, 2019, September 4, 2019, October 21, 2019, July 2, 2020 - July 29, 2020
Flamel stage: May 17, 2019, June 11, 2019, September 25, 2019, March 17, 2020, May 18, 2020, July 23 - July 29 2020
Anastasia stage: May 19, 2019, June 12, 2019, October 9, 2019, January 16, 2020, April 3, 2020, July 2, 2020 - July 8, 2020
Creto stage: May 23, 2019, September 17, 2019, March 7, 2020, April 26, 2020, July 23 - July 29 2020
Eren stage: June 6, 2019, June 27, 2019, July 3, 2019
Reiner stage: June 9, 2019, June 28, 2019, July 3, 2019
Hange stage: June 13, 2019, July 1, 2019, July 3, 2019
Basheeny stage: June 15, 2019, June 25, 2019, November 15, 2019, November 28, 2019, June 11, 2020 - June 17, 2020
Bud stage: June 17, 2019, June 24, 2019, December 1, 2019, June 25, 2020 - July 1, 2020
Levi stage: June 19, 2019, June 29, 2019, July 3, 2019
Mikasa stage: June 20, 2019, June 30, 2019, July 3, 2019
Judith stage: June 21, 2019, July 2, 2019, July 3, 2019, February 28, 2020, May 31, 2020, June 4, 2020 - June 10, 2020
Shayna stage: June 22, 2019, July 27, 2019, November 4, 2019, February 3, 2020, July 9, 2020 - July 15, 2020
Don Taras stage: June 23, 2019, January 15, 2020, July 2, 2020 - July 8, 2020
Ren stage: July 4, 2019, June 25, 2020 - July 1, 2020
Albea stage: July 5, 2019, August 2, 2019, November 13, 2019, May 17, 2020, June 18, 2020 - June 24, 2020
Yomi stage: July 6, 2019, August 6, 2019, December 11, 2019, February 23, 2020, July 16, 2020 - July 22, 2020
Neica stage: July 7, 2019, November 9, 2019, June 18, 2020 - June 24, 2020
Jin stage: July 8, 2019, August 5, 2019, September 18, 2019, February 22, 2020, July 16, 2020 - July 22, 2020
Uzuma stage: July 9, 2019, February 15, 2020, May 5, 2020, May 14, 2020, July 9, 2020 - July 15, 2020
Emma stage: July 10, 2019, November 5, 2019, February 29, 2020, July 16, 2020 - July 22, 2020
Theresa stage: July 11, 2019, May 21, 2020, July 9, 2020 - July 15, 2020
Yunagi stage: July 12, 2019, November 12, 2019, June 18, 2020 - June 24, 2020
Reimei stage: July 13, 2019, December 3, 2019, January 26, 2020, February 21, 2020, April 28, 2020, July 16, 2020 - July 22, 2020
Chao stage: July 14, 2019, December 28, 2019, June 25, 2020 - July 1, 2020
Fraise stage: July 15, 2019, December 18, 2019, March 15, 2020, July 23 - July 29 2020
Eve stage: July 16, 2019, September 24, 2019, December 8, 2019, June 25, 2020 - July 1, 2020
Reido stage: July 17, 2019, September 16, 2019, January 27, 2020, March 16, 2020, July 23 - July 29 2020
Orion stage: July 18, 2019, January 3, 2020, April 2, 2020, April 21, 2020, July 23 - July 29 2020
Yauras stage: July 21, 2019, August 19, 2019, February 19, 2020, June 25, 2020 - July 1, 2020
Kudanstein stage: July 23, 2019, February 8, 2020, July 16, 2020 - July 22, 2020
Acht stage: July 24, 2019, December 14, 2019, June 4, 2020 - June 10, 2020
Leafah stage: July 25, 2019, May 9, 2020, July 2, 2020 - July 8, 2020
Vincent stage: July 27, 2019, February 26, 2020, July 23 - July 29 2020
Zangetsu stage: July 28, 2019, January 28, 2020, July 16, 2020 - July 22, 2020
Kazahaya stage: July 30, 2019, June 11, 2020 - June 17, 2020
Wilhelm stage: August 1, 2019, September 11, 2019, October 8, 2019, February 4, 2020, July 2, 2020 - July 8, 2020
Silma stage: August 3, 2019, September 7, 2019, January 5, 2020, February 6, 2020, July 9, 2020 - July 15, 2020
Aisha stage: August 4, 2019, September 8, 2019, February 5, 2020, July 9, 2020 - July 15, 2020
Sophia stage: August 7, 2019, January 8, 2020, July 2, 2020 - July 8, 2020
Kaya stage: August 8, 2019, March 29, 2020, June 11, 2020 - June 17, 2020
Shenmei stage: August 9, 2019, September 23, 2019, March 3, 2020, May 22, 2020, July 2, 2020 - July 8, 2020
Lakina stage: August 10, 2019, October 6, 2019, December 6, 2019, March 31, 2020, July 2, 2020 - July 8, 2020
Lucretia stage; August 11, 2019, September 20, 2019, December 10, 2019, June 25, 2020 - July 1, 2020
Gormalas stage: August 12, 2019, December 31, 2019, May 23, 2020, June 25, 2020 - July 1, 2020
Hisham stage: August 13, 2019, October 13, 2019, July 2, 2020 - July 8, 2020
Zain stage: August 14, 2019, October 7, 2019, November 21, 2019, June 18, 2020 - June 24, 2020
Vier stage: August 15, 2019, February 17, 2020, July 2, 2020 - July 8, 2020
Mirianne stage: August 16, 2019, January 7, 2020, July 16, 2020 - July 22, 2020
Sol stage: August 17, 2019, October 4, 2019, January 2, 2020, April 16, 2020, July 9, 2020 - July 15, 2020
Dorothea stage: August 18, 2019, January 6, 2020, May 30, 2020, July 2, 2020 - July 8, 2020
Zofia stage: August 20, 2019, January 1, 2020, July 9, 2020 - July 15, 2020
Othima stage: August 21, 2019, February 10, 2020, June 25, 2020 - July 1, 2020
Dark Longinus stage: August 22, 2019, September 4, 2019, October 19, 2019, July 2, 2020 - July 29, 2020
Priscilla stage: August 23, 2019, January 14, 2020, July 2, 2020 - July 8, 2020
Ravina stage: August 24, 2019, October 12, 2019, June 11, 2020 - June 17, 2020
Dark Masamune stage: August 25, 2019, September 4, 2019, October 18, 2019, July 2, 2020 - July 29, 2020
Minerva stage: August 29, 2019, October 1, 2019, March 23, 2020, July 2, 2020 - July 8, 2020
Roxanne stage: August 30, 2019, September 29, 2019, March 22, 2020, July 9, 2020 - July 15, 2020
Siegfried stage: August 31, 2019, September 30, 2019, March 20, 2020, July 23 - July 29 2020
Asuka stage: September 1, 2019, September 27, 2019, March 24, 2020, May 28, 2020, July 23 - July 29 2020
Daisy stage: September 2, 2019, December 30, 2019, April 17, 2020, June 25, 2020 - July 1, 2020
Shion stage: September 3, 2019, September 28, 2019, March 21, 2020, May 29, 2020, July 16, 2020 - July 22, 2020
Cheryl stage: September 5, 2019, February 2, 2020, June 25, 2020 - July 1, 2020
Courage stage: September 6, 2019, March 14, 2020, July 23 - July 29 2020
Lofia stage: September 9, 2019, January 29, 2020, July 16, 2020 - July 22, 2020
Tamamo stage: September 10, 2019, March 1, 2020, July 16, 2020 - July 22, 2020
Merlinus stage: September 12, 2019, October 2, 2019
Arthur stage: September 19, 2019, October 2, 2019
Zheng Yi stage: September 26, 2019, March 25, 2020, June 18, 2020 - June 24, 2020
Toritoh stage: October 3, 2019, December 6, 2019, March 27, 2020, June 25, 2020 - July 1, 2020
Fung Liu sage: October 10, 2019, June 11, 2020 - June 17, 2020
Letitia stage: October 14, 2019, May 10, 2020, June 18, 2020 - June 24, 2020
Corvus stage: October 15, 2019, June 11, 2020 - June 17, 2020
Nina stage: October 16, 2019, June 18, 2020 - June 24, 2020
Dark Freikugel stage: October 17, 2019, July 2, 2020 - July 29, 2020
Dark Parashu stage: October 20, 2019, July 2, 2020 - July 29, 2020
Lunaris stage: October 24, 2019
Selena stage: October 25, 2019
Hayate stage: November 1, 2019, April 5, 2020, July 9, 2020 - July 15, 2020
Melda stage: November 2, 2019, April 4, 2020, July 9, 2020 - July 15, 2020
Mei Fang stage: November 3, 2019, April 6, 2020, June 11, 2020 - June 17, 2020
Hozuki stage: November 7, 2019, March 11, 2020, May 12, 2020, June 3, 2020, July 23 - July 29 2020
Teona stage: November 8, 2019, June 18, 2020 - June 24, 2020
Lupinus stage: November 16, 2019, June 18, 2020 - June 24, 2020
Suzuka stage: November 17, 2019, February 14, 2020, July 16, 2020 - July 22, 2020
Vivi stage: November 18, 2019, June 18, 2020 - June 24, 2020
Cordelia stage: November 29, 2019, April 29, 2020, June 25, 2020 - July 1, 2020
Julia stage: December 5, 2019, May 7, 2020, July 23 - July 29 2020
Zwei stage: December 12, 2019, April 1, 2020, June 1, 2020, June 4, 2020 - June 10, 2020
Neun stage: December 13, 2019, March 30, 2020, June 11, 2020 - June 17, 2020
Bertha stage: December 19, 2019
Michael stage: December 20, 2019, June 11, 2020 - June 17, 2020
Carol stage: December 21, 2019, July 9, 2020 - July 15, 2020
Sharon stage: December 22, 2019, June 2, 2020, June 11, 2020 - June 17, 2020
Blair stage: December 23, 2019, March 19, 2020, June 11, 2020 - June 17, 2020
Birgitta stage: December 26, 2019, May 8, 2020, May 15, 2020, June 18, 2020 - June 24, 2020
Eira stage: December 27, 2019, March 19, 2020, April 24, 2020, June 4, 2020 - June 10, 2020
Mielikki stage: January 4, 2020, April 27, 2020, July 2, 2020 - July 8, 2020
Mocca stage: January 9, 2020, July 2, 2020 - July 8, 2020
Alma stage: January 10, 2020, July 2, 2020 - July 8, 2020
Tomas stage: January 11, 2020, July 2, 2020 - July 8, 2020
Tethys stage: January 12, 2020, July 2, 2020 - July 8, 2020
Almira stage: January 13, 2020, June 11, 2020 - June 17, 2020
Elaine stage: January 17, 2020, June 11, 2020 - June 17, 2020
Richie stage: January 18, 2020, June 18, 2020 - June 24, 2020
Strauss stage: January 19, 2020, June 18, 2020 - June 24, 2020
Mizuchi stage: January 21, 2020, June 18, 2020 - June 24, 2020
Amis stage: January 22, 2020, June 18, 2020 - June 24, 2020
Eizan stage: January 23, 2020, May 26, 2020, July 9, 2020 - July 15, 2020
Laila stage: January 30, 2020, July 9, 2020 - July 15, 2020
Zehn stage: January 31, 2020, May 27, 2020, July 9, 2020 - July 15, 2020
Leoniaz stage: February 1, 2020, July 9, 2020 - July 15, 2020
Itsuki stage: February 13, 2020, July 9, 2020 - July 15, 2020
Meliodas stage: February 20, 2020 - March 11, 2020
Ines stage: February 27, 2020, July 23 - July 29 2020
King stage: February 27, 2020 - March 11, 2020
Diane stage: February 27, 2020 - March 11, 2020
Ban stage: March 5, 2020 - March 11, 2020
Gowther stage: March 5, 2020 - March 11, 2020
Reagan stage: March 6, 2020, July 23 - July 29 2020
Fujika stage: March 8, 2020, July 23 - July 29 2020
Chihaya stage: March 10, 2020, July 23 - July 29 2020
Gino stage: March 12, 2020, July 23 - July 29 2020
Kevin stage: March 13, 2020, July 23 - July 29 2020
Won stage: March 26, 2020, June 4, 2020 - June 10, 2020
Miuna stage: March 28, 2020, July 16, 2020 - July 22, 2020
Olga stage: April 18, 2020, June 4, 2020 - June 10, 2020
Alyu stage: April 19, 2020, June 4, 2020 - June 10, 2020
Soleil stage: April 20, 2020, June 25, 2020 - July 1, 2020
Morrigan stage: April 23, 2020, June 4, 2020 - June 10, 2020
Reida stage: April 25, 2020, June 25, 2020 - July 1, 2020
Moa stage: May 16, 2020, June 11, 2020 - June 17, 2020
Suiran stage: May 24, 2020, June 25, 2020 - July 1, 2020
Margaret stage: June 4, 2020 - June 10, 2020
Mikoto stage: June 4, 2020 - June 10, 2020
Nasario stage: June 4, 2020 - June 10, 2020
Noah stage: June 4, 2020 - June 10, 2020
Hugo stage: June 4, 2020 - June 10, 2020
Tsang Lei stage: June 4, 2020 - June 10, 2020
Ila stage: June 4, 2020 - June 10, 2020
Klima stage: June 4, 2020 - June 10, 2020
Lucia stage: June 4, 2020 - June 10, 2020
Ennis stage: June 4, 2020 - June 10, 2020
Jake stage: June 4, 2020 - June 10, 2020
Kuon stage: June 4, 2020 - June 10, 2020
Patty stage: June 4, 2020 - June 10, 2020
Leon stage: June 4, 2020 - June 10, 2020
Aruba stage: June 11, 2020 - June 17, 2020
Deneb stage: June 11, 2020 - June 17, 2020
Fairily stage: June 11, 2020 - June 17, 2020
Hazel stage: June 11, 2020 - June 17, 2020
Annika stage: June 11, 2020 - June 17, 2020
Annerose stage: June 11, 2020 - June 17, 2020
Thillie stage: June 18, 2020 - June 24, 2020
Edwin stage: June 25, 2020 - July 1, 2020
Hazuki stage: June 25, 2020 - July 1, 2020
Megistos stage: June 25, 2020 - July 1, 2020
Scheherazade stage: June 25, 2020 - July 1, 2020
Celine stage: July 2, 2020 - July 8, 2020
Caris stage: July 2, 2020 - July 8, 2020
Chat Noir stage: July 2, 2020 - July 8, 2020
Chiruru stage: July 2, 2020 - July 8, 2020
Glanz stage: July 2, 2020 - July 8, 2020